IVECO BUS and Belgian Flemish operator De Lijn have signed a record frame agreement for the supply of up to 500 low floor articulated full electric city buses, with a first batch of 65 vehicles to be delivered in 2024. With this delivery IVECO BUS will have the largest fleet of electric articulated buses in operation in Belgium, a new step for IVECO BUS, further strengthening its position for zero emission mobility all around Europe.

Vénissieux, 25 January 2023

IVECO BUS has signed a frame agreement with Belgian Flemish operator De Lijn for the purchase of an estimated volume of 500 E-WAY 18m over a period of 2+2+2 years.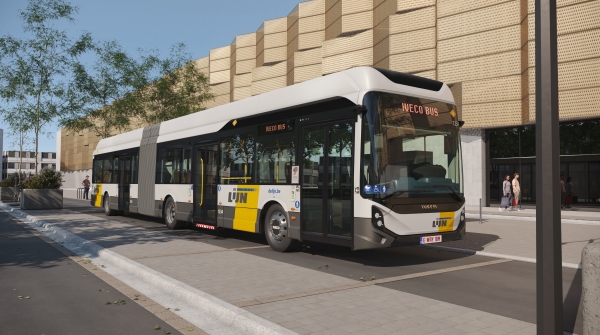 De Lijn, a Flemish government-owned enterprise in Flanders, transports some 3.5 million passengers every year. IVECO BUS will support the company's objective of providing optimal emission-free mobility services in urban areas with its articulated E-WAY. This frame agreement fits within De Lijn's plan to transition its entire bus fleet to sustainable energy sources with the deployment of 3,430 e-buses by 2035 covering 200 million emission-free kilometres every year, the conversion of its depots, and the charging infrastructure.

The 18m E-WAY electric buses will be deployed in several cities in Flanders. Deliveries will begin in 2024 and will represent the largest fleet of IVECO BUS articulated electric buses in operation.
The full electric 18m E-WAY has been selected by De Lijn for its technical qualities and economic performance. The vehicles will be powered by the new Siemens driveline and new NMC-type batteries with a total capacity of 623 kWh. This unique battery package will be assembled at our new FPT Industrial battery plant in Turin.

The E-WAY will meet the General Safety Regulation 2 (GSR2) with its safety features, such as blind spot detection, intelligent speed adaptation, front collision alert system, driver fatigue detection and tire pressure sensors. All buses will be equipped with a camera mirror system.
"Thanks to this first order of articulated full electric buses, we confirm our full commitment in offering an ever more sustainablemobility wherever we operate. For this next step towards zero emissions solutions, we chose IVECO BUS, a well-known manufacturer in this field, and its E-WAY 18 m, that best met our expectations in terms of range, comfort and safety, both for our passengers and drivers", commented Ann Schoubs, Managing Director of De Lijn."

"We are particularly proud that De Lijn once again put their trust in IVECO BUS with the signature of a major agreement and that they recognized the articulated E-WAY as the optimal choice on the market. We would like to thank them for choosing IVECO BUS for the sustainable transition of their fleet," said Stéphane Espinasse, Head of Sales & Products, IVECO BUS.

With the signature of this frame agreement of up to 500 E-WAY 18m-long units, IVECO BUS and De Lijn will be deploying a
new collaboration in urban bus projects.