On April 9th, the IVECO Crossway and Crossway Low Entry Natural Power models get the new International Sustainability Award 2021 in the category natural gas bus from the Busplaner magazine. The independent expert jury, consisting of well-known personalities from business world, associations and media, has been convinced by the performance offered by the alternative drive with natural gas of IVECO BUS. The Crossway and Crossway Low Entry Natural Power intercity models represent a true sustainable mobility solution thanks to their environmentally friendly natural gas engine and their exceptionally quiet operation.

Vénissieux, 15 April 2021

For the fifth time, the trade magazine "Busplaner" has awarded the title "International Sustainability Award". Every 2 years, this prize honors companies in the bus industry which, through their economic, social and environmental commitment, contribute to a sustainable and responsible growth.

Small ecological footprint

Equipped with the 360 hp IVECO Cursor 9 NP, the Crossway and Crossway Low Entry Natural Power offer high performance in terms of autonomy with a range of up to 600 km and in terms of pollutant and sound emissions reduction. They perfectly meet the growing needs for an environmentally friendly passenger transport in urban, peri-urban or interurban areas. With natural gas, fine particles emissions levels are reduced to nearly zero, and nitrogen oxide emissions are reduced by more than one third. The noise level is also reduced by half, offering exceptional operating silence for the driver, passengers and people nearby.

Bio-CNG ready!

Of course, the Crossway and Crossway Low Entry Natural Power buses also help to save natural resources, as they are 100% compatible with biomethane, produced from organic waste. The vehicles thus have an excellent carbon balance and make a concrete contribution to the energy transition in local public transport. The environmental benefit is a reduction in greenhouse gas production of up to 95%.

Smart vehicle concept

Designed for urban and periurban operations, the Crossway and Crossway Low Entry Natural Power models include a clever design which integrates the compressed gas tanks into the roof. This exclusive patented feature optimizes the vehicle's centre of gravity for greater on-road stability. The design also makes it the lowest vehicle on the market in terms of overall height (3,455 mm Crossway, 3,210 mm Crossway LE). The low-entry concept enables excellent ease of boarding and disembarking for all passengers.

More sustainability in public transport with IVECO Natural Power buses

As a pioneer of alternative-drive buses, IVECO BUS has an extensive portfolio to offer. These includes the Daily minibuses, the Urbanway buses, CREALIS High Service Level buses as well as the Crossway range, including the low-entry version, which won the International Busplaner Sustainability Award in 2021.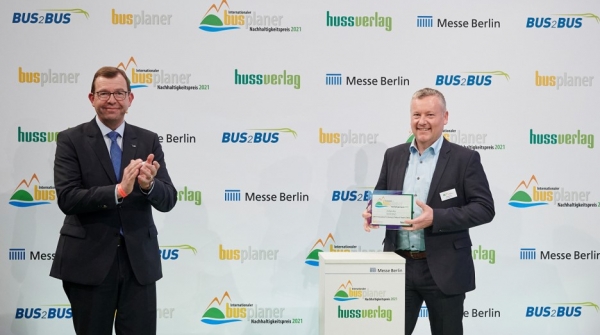 "We are proud of this new award that confirms the pioneering and expert role of IVECO BUS in natural gas buses." declares Stéphane Espinasse, IVECO BUS Brand Leader. "Furthermore, IVECO BUS offers today a complete portfolio of sustainable mobility solutions, running on natural gas, hybrid electric and 100% electric, to meet at best each request from public transport authorities and operators."