IVECO BUS will supply 238 CROSSWAY vehicles to ARST, a local urban, extra-urban and rail public transport company in Sardinia, with the first 144 units having already been delivered. The remaining 94 CROSSWAY will follow in instalments by June 2023.

Turin, 15th March 2023

A total of 238 CROSSWAY (12-metre-long) will be operating on the roads of Sardinia by mid-2023. The vehicles will contribute to the complete renewal of ARST's fleet. The first 144 units have been delivered and will be followed in the coming months by the remaining 94 units.

The handover ceremony was held at ARST headquarters in Nuoro, Pratosardo, in the presence of Carlo Poledrini – Director General, Dr Roberto Neroni - Director, Antonio Moro - Regional Councillor for Transport and Gianluca Annunziata - General Manager of IVECO BUS Italy.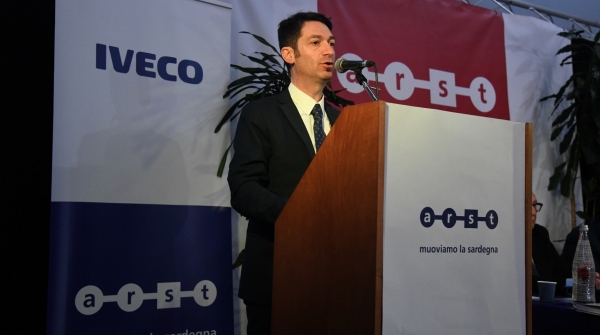 CROSSWAY represents the best possible choice for intercity transport for its performance, energy efficiency and low emissions. Particular attention has been paid to passenger and driver comfort, as well as accessibility for people with reduced mobility.

The CROSSWAY model (class II version), selected by ARST for the renewal of its fleet, offer a high passenger capacity with 51 reclining seats. An electro-pneumatic elevator at the central door facilitates access for people with disabilities. The vehicles are equipped with the 360 hp Cursor 9 Euro VI engine, an automated gearbox, and numerous technological features that enhance safety and comfort. They include a fire extinguishing system, advanced on-board security systems, video surveillance, geolocation, on-board computer, next stop announcement and passenger counter.
ARST says: "The new vehicles are an important step in the renewal of the company's fleet to offer a transport service with ever better-quality standards. They will mainly be used to transport students. They will help to achieve the objective of ensuring better mobility and easier access to training for students on a regional scale, a very important demand from businesses, and above all from young people who will find a great improvement in transport conditions."

"We are proud to support ARST in this important process of renewing its fleet. With the CROSSWAY, ARST benefits from the performance of the undisputed market leader in its segment. It is a vehicle appreciated for its reliability and safety that offers an optimal level of comfort to both passengers and driver over short and medium distances," said Stéphane Espinasse, IVECO BUS Sales and Product Manager.