IVECO BUS, a leader in alternative-propulsion buses, follows up on the launch earlier this year of its new-generation hybrid URBANWAY city bus with the introduction of its new hybrid technology in the CROSSWAY Low Entry models, available in XTL (X-To-Liquid) renewable fuel and Natural Gas versions.

The new CROSSWAY LE Hybrid is currently available as Class I for city uses and Class II for suburban.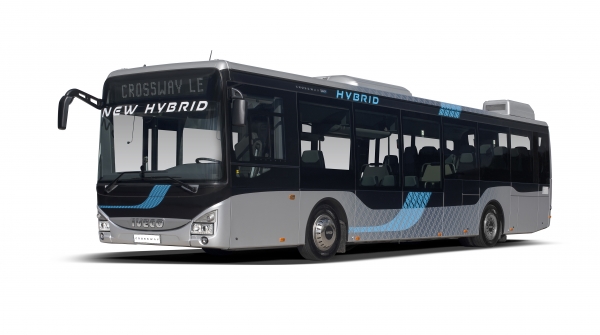 IVECO BUS is previewing the CROSSWAY LE Hybrid at FIAA 2022 in Madrid (hall 9 – stand 9C02) from 18 to 21 October, with a 12-meter-long version with 43 Lineo seats and 2 folding seats for a total capacity of up to 71 passengers.

The CROSSWAY LE Hybrid CNG has been crowned "Sustainable Bus of the Year 2023" in the Intercity category.

Madrid, 18 October 2022

IVECO BUS unveils the latest addition to its sustainable mobility offering at the FIAA 2022 exhibition in Madrid, Spain: the very first Hybrid Low Entry model in its CROSSWAY range, the undisputed European market leader in its segment with a record production of almost 55,000 units. With the new hybrid models, available in XTL renewable fuel and in Natural Gas versions, the brand further extends its offer of effective solutions for transport operators to reduce their carbon footprint.

Stéphane Espinasse, IVECO BUS Head of Sales and Products said: "The extension of our suburban range with the new CROSSWAY LE Hybrid will enable transport operators to benefit from a significant reduction in energy costs and CO2 emissions compared to previous generations. This is a further step in the strategy that, as a leader in alternative tractions, IVECO BUS has adopted to drive the energy transition through a mix of technologies to provide our customers with a choice of solutions according to the requirements of their missions and operations. With this new introduction, we further strengthen our brand's ability to provide the widest sustainable offering, including suburban models, consolidating our leadership as one of the key players in the segment in Europe."

Simple design

The electric drivetrain features hybrid technology developed in close collaboration with global technology company Voith. It is equipped with a 48V battery coupled to a Voith DIWA NXT gearbox and the proven Cursor 9 engine. The DIWA NXT gearbox is combined with a powerful 35 kW peak electrical recovery motor, which acts as a starter and generator to recover the kinetic energy accumulated during the deceleration and braking phases, with a high-energy LTO battery (48 V) mounted on the roof. The electric motor supports the Cursor 9 engine during the starting phases.

The new solution also features a Stop & Start function, which offers multiple benefits for users and operators: it eliminates noise and vibrations, resulting in greater comfort for passengers, residents, and pedestrians at bus stops, and further improves fuel economy.

With these features, the new CROSSWAY LE Hybrid delivers fuel savings compared to the non-hybrid version – an important advantage at a time when operators are facing rising energy costs. In addition, when combining renewable fuels, this new hybrid solution enables them to reduce their CO2 emissions.

The CROSSWAY LE Hybrid also benefits from the recognized qualities of the CROSSWAY and offers equipment designed to enhance the well-being of passengers and drivers. It is fully compliant with anti-rollover standard R66.02 and front collision mitigation R29.03 tests A & B.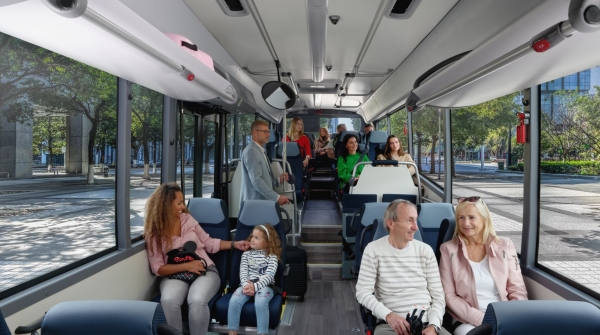 Award-winning sustainability

The brand-new CROSSWAY LE Hybrid CNG has been awarded the prestigious title of Sustainable Bus of the Year 2023 in the Intercity category.

A wide choice of solutions for suburban transport

With the addition of the new CROSSWAY LE Hybrid to its product portfolio for suburban transport, IVECO BUS now offers a choice of:
10.8-, 12-, 13- and 14.5-meter CROSSWAY Low Entry equipped with Diesel Cursor 9 engine, XTL compatible, available
in Class I and II.
12-meter CROSSWAY Low Entry (Class I) with a Cursor 9 Natural Gas engine, biomethane compatible.
12- and 13-meter CROSSWAY Low Entry (Class II) Natural Gas versions.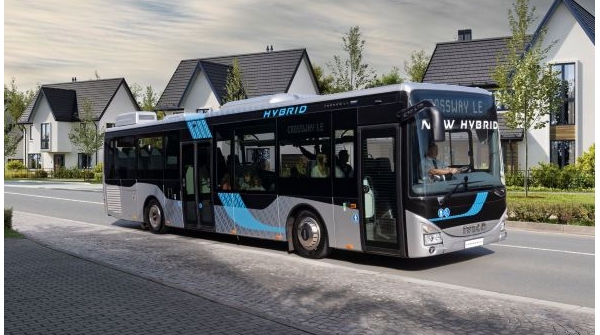 The IVECO BUS CROSSWAY LE Hybrid, manufactured at the IVECO BUS plant in Vysoké Myto, Czech Republic, has already been presented for tenders in 2022, with deliveries starting in the first quarter of 2023.