Vénissieux, 29 March 2021
On 29 March, IVECO BUS, global coach and bus manufacturer and brand of the CNH Industrial Group and INDCAR signed a manufacturing supply partnership agreement for the production, under IVECO brand, of a new low entry minibus range marketed under the name Daily Access.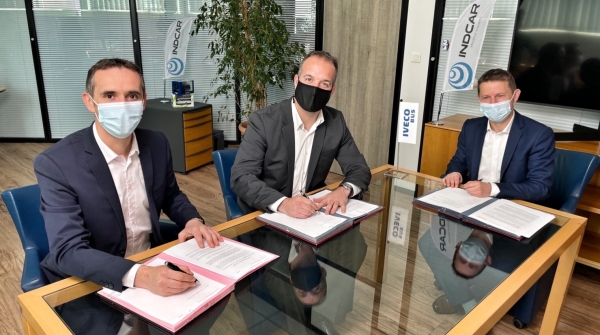 As key player in the minibus sector with its Daily range, IVECO BUS has decided to collaborate with INDCAR, a well-known bodybuilder in the sector, to develop and produce a new range entirely dedicated to urban and peri-urban missions.
Set to join IVECO BUS' urban range, the Daily Access will be mainly available in Natural Gas version, biomethane compatible, to meet the growing needs of public transport operators in this sector and support them in their energy transition.
The Daily Access range, marketed by IVECO BUS, will offer several versions and benefit from the IVECO brand's full range of related services. Customers will thus be able to benefit from manufacturer's integrated solutions as well as the new IVECO ON telematics offer, providing the best in terms of performance, quality and TCO.
The first deliveries are expected early 2022.
"We are delighted with this coming Daily Access range, which expands our existing city range and which will enable us to fully meet current and future requests in this growing market sector" highlighted Gauthier Ricord, Light Business Line.   "These new models combine the INDCAR's experience with the key qualities that form the DNA of the Daily range, including also IVECO BUS' natural gas expertise."
"We are very happy with the confidence placed in us for our expertise, production capacity and recognized know-how in the field of minibuses" stated Gaël Queralt, CEO of INDCAR.