The inauguration ceremony of 10 E-WAY 9.5m took place last 28th March. These are the very first manufacturer's midibuses to operate in Monaco. They will fully support the energy transition of the Principality and contribute to respecting air quality while reducing noise pollution. They will be put into operation between April 4th for line 3 and early autumn for line 5.

Vénissieux, 31st March 2022

The inauguration ceremony which took place on Monday 28th March was attended by H.S.H. Prince Albert II, sovereign Prince of Monaco, Mrs Céline Caron-Dagioni, Minister of Environment and Urban Planning, Mr. Stéphane Valeri, President of the National Council, as well as senior representatives of the Equipment, Mobility and Energy Transition Authorities, Mr Roland de Rechniewski, Director of the Compagnie des Autobus de Monaco and Frederic Lahitte, Managing Director of IVECO France.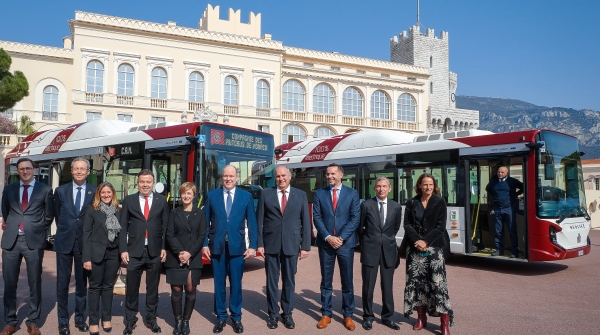 Quiet and zero emission, the E-WAY 9.5m offers significant environmental benefits, as absence of local pollutants, reduction of greenhouse gases, noise pollution and vibrations. It means more comfort for the passengers and local residents.

With a strong identity, the red and white colors chosen both for the exterior customization and seats' trim are a subtle reminder of the national flag. On board, the layout imagined by the Public Transport Company of Monaco combines sustainability and elegant design. The vegetal leather, a more environmental-friendly leather alternative, has been specifically chosen by the operator for seats covering in order to further reduce the carbon footprint of its vehicles.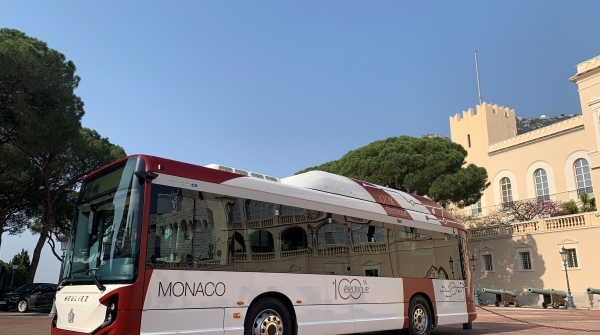 Easily accessible, these midibuses will be able to welcome more than 60 passengers on board, including 16 seated. They are equipped with air conditioning, information screens and USB ports for a peaceful journey.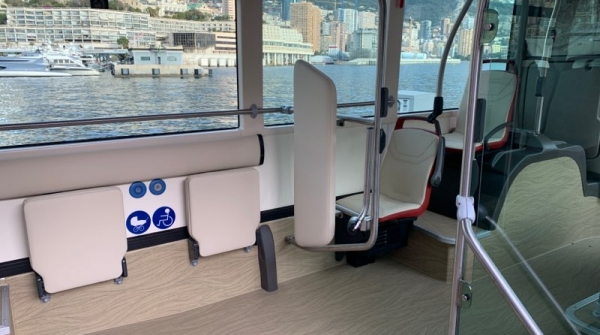 The compact dimensions of the E-WAY midibus: -9.5 m long and only 2.33 m wide make it very agile for routes difficult to access, especially narrow streets in city centres. To further improve driver comfort, the Public Transport Company of Monaco has decided to fit its vehicles with a rear-view vision system that replaces the traditional exterior mirror.

The E-WAY 9.5m has been designed and produced in the electromobility center of excellence of IVECO BUS based in Rorthais (France). It is equipped with a 160kW electric motor and NMC Lithium-ion batteries located on the roof and in the rear compartment. It recharges at night at the depot in a few hours, thus benefiting from the necessary range for one day operation.

Roland de Rechniewski, Director of Compagnie des Autobus de Monaco: "We are entering a new era by putting into service these series of buses that comply with our environmental commitments. Their elegance and comfort, we hope, will convince our users and visitors."

Stéphane ESPINASSE, Head of Sales & Products, IVECO BUS said: ". We are particularly proud to deliver for the first time our full electric midibuses in such a prestigious place as Monaco, and to support the principality in its strong approach to respecting environment and the Mediterranean coast."
Compagnie des Autobus de Monaco has been operating the Principality's public transport network since 1939. Composed of 6 daytime lines and 2 night lines, CAM buses travel 1.3 million kilometers and carry 7 million passengers per year. Before the arrival of the 10 E-WAY electric midibuses, 45 buses, 22 of which were hybrid, provided daily service and school trips. 1/3 of the lines will therefore be "electrified" by the end of the year, paving the way for total decarbonization before the end of this decade.