Busitalia awards IVECO BUS for the supply up to 150 full electric city buses. This major frame agreement for E-WAY buses, which is the largest IVECO BUS signed in Italy, demonstrates the brand's ability to provide efficient zero emission solutions.

The deliveries are planned for the period 2023 – 2025, with a first batch of 18 vehicles to be delivered in July 2023.
Vénissieux, 11 January 2023
IVECO BUS has been awarded with a three-year frame agreement for the supply of up to 150 E-WAY 12-m long full electric city buses to Busitalia. This is the biggest order for E-WAY city buses to date in Italy, confirming the brand's position at the forefront of full electric mobility solutions.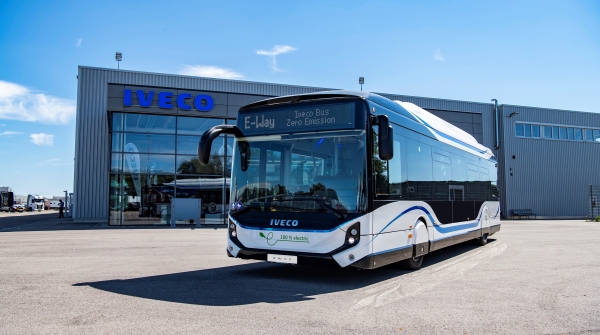 Busitalia is the FS Italiane Group company, which mainly deals with local public transport services (LPT) on buses, directly and through subsidiaries. The company operates LPT services in Umbria, Veneto, and Campania, and in the Netherlands with Qbuzz, in the areas of Utrecht and Groningen-Drenthe. Among the leading companies in road passenger transport, Busitalia has 5,000 employees and 2,700 buses. In 2021, Busitalia drove about 152 million km.
The 12-m long night charging E-WAY buses that Busitalia will operate include numerous equipment such as air conditioning, USB plugs, dedicated areas for people in wheelchair, as well as a rear-view vision system. Two various layouts will offer a large passenger capacity without compromising the range on a single charge. Some vehicles are equipped to welcome 28 seated passengers for urban transport while others will offer an optimal combination of 32 seats for suburban transport.
The vehicles will be delivered in the period 2023 – 2025. The first 18 vehicles will be delivered in July 2023 to be put into service in Padoua and Rovigo.
With this new contract, IVECO BUS reinforces its leadership in the development of zero emission buses and its position as a major partner to support public transport authorities in their energy transition.
 "Taking part in the sustainable development of our country is at the heart of our daily activity: contributing to the development of sustainable collective mobility represents both Busitalia's commitment and goal. The renewal of our fleets with electric buses of this type - which we are sure will meet all our expectations - will help us achieve our goals in a sustainable way.", said Stefano BONORA, CEO and General Manager of Busitalia.
Stéphane ESPINASSE, Head of Sales & Products IVECO BUS, said: "We are particularly honored with this order, confirming our strong leadership for electric technology. We are proud to support Busitalia in the deployment of zero emission buses to make public transport in Italy even more sustainable. We are looking forward to seeing an increasing number of E-WAY running in Italy."