IVECO BUS has delivered two 12-metre fast charging E-WAY to the public company Marprom to operate in Maribor city.
Emission free and silent, the E-WAY will contribute to the development of a clean city while improving drivers, passengers, and citizens' lives. They will operate between new electric charging stations in Maribor city on the busiest bus line Nr6.
 Maribor, 15th June 2022
The public company Marprom has selected the E-Way in fast-charging version to electrify its bus fleet in Maribor city.
The official handover of the e-buses took place today in Maribor in the presence of Mr Saša Arsenovič, mayor of Maribor, Dr. Samo Peter Medved, deputy Mayor, Mag. Andrej Rihter, CEO Public holding company of Maribor, Ranko Šmigoc, CEO Public company Marprom, Red. prof. Dr. Vesna Žegarac Leskovar, dekanica FGPA, dean, Faculty of Civil Engineering, Transportation Engineering and Architecture at the University of Maribor, Jan Kimla, Business director CEE IVECO BUS, Drago Izlakar, CEO Dualis and Marcel van-der. Hoek, Divisions M&S Manager and EL Commercial Leader in Bulgaria, Croatia, Serbia and Slovenia, Branko Plešnik, CEO ABB Slovenija.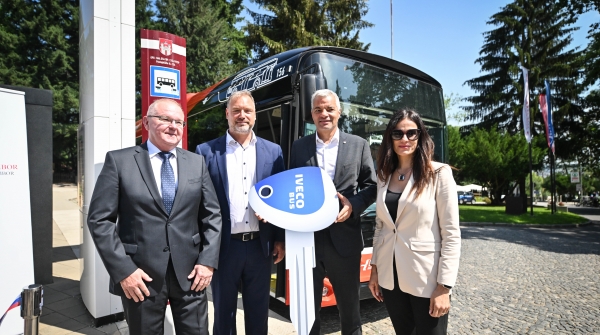 These E-Way fast-charging buses will perfectly support Maribor city electric transition plan; they provide major environment-related benefits as they can run on long distances entirely emissions-free and are extremely quiet, offering the best comfort for the driver, passengers and residents.
The Municipality of Maribor has chosen to develop solutions for energy-efficient public transport including the electrification of its bus fleet. The EfficienCE project enabled the municipality to start with implementing two fast-charging stations with top-down pantographs, one at the main bus station and the other at the end of bus route Nr 6, which is the busiest in the city.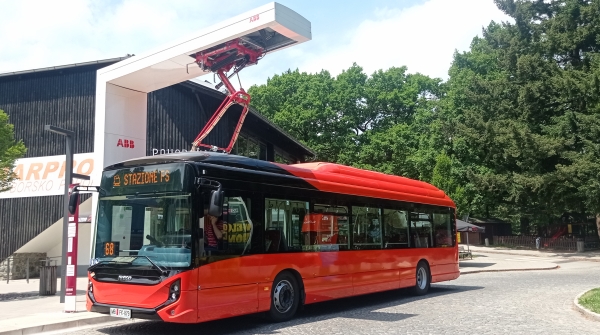 With the E-WAY, IVECO BUS offers the most complete range of electric buses on the market, that fits the specific needs of each customer, thanks to a wide selection of lengths (9.5, 10.7, 12 and 18 metres) and charging modes (slow night charging, or fast charging by pantograph).
The OppCharge standard compliant E-WAY chosen by Marprom features a 140-kW electric traction motor and a 5-pack of Lithium Titanate Oxide batteries of 73 kWh. During the day, the buses will be fast-charged in few minutes, via a top-down pantograph at the charging points on the bus route.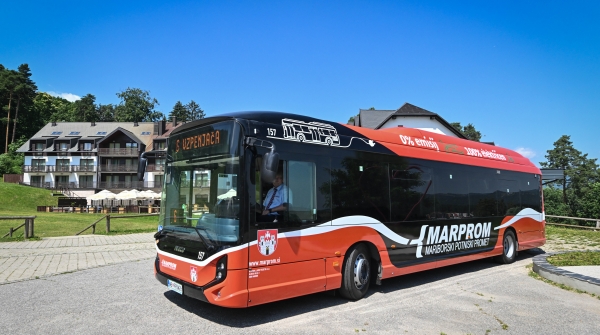 It represents a perfect solution for city lines performing intensive schedule and high daily mileage with air conditioning. These three-door E-buses can welcome 31 seated passengers and have several innovative features to improve comfort on board including a manual ramp to facilitate disabled access, USB ports, two-flap seats in the wheelchair area, electric air conditioning and a driver's door with Covid glass protection.
"The Public company Marprom, which is part of the Public holding company of Maribor, normally transports around 4 million passengers per year in urban bus transport. Marprom is aware the future of urban transport is in electric vehicles, so together with the Municipality of Maribor it has already started electrifying the vehicle fleet. Electric vehicles are especially welcome in urban areas, as they do not cause noise and emissions of dust particles and exhaust gases. Therefore, the new electric buses will be an important acquisition for the company and the city," said Ranko Šmigoc, Business. Director of Marprom.
"The Municipality of Maribor has approached electrification of public transport with the intention of improving environmental and air quality in the city. Electric buses offer environmental benefits such as the absence of local emissions and greenhouse gas, at the same time, they operate quietly which eliminates noise pollution. They are fully optimized in terms of energy management. These characteristics make them a lot more friendly towards inhabitants living on roads that are busy with public transport.  The Municipality plans to purchase additional nine electric buses of different sizes by the end of 2024. In a long-term and compliant with the requirements of the EU, the Municipality plans a 50% share of environment-friendly vehicles in its public transport car park by 2030," said Saša Arsenovič, Mayor of Maribor.
"We are proud to support Maribor city in the implementation of its full electric mobility project with our fast-charging E-WAY model which combines the highest performance achievements with the highest environmental requirements," said
Stéphane Espinasse, Head of Sales & Products, IVECO BUS.