Considering the current health situation, IVECO BUS has put in place several solutions aimed at protecting the health and sanitary safety of drivers and passengers.
Lyon, 14th October 2020
The current health crisis has had a great impact on the public transport sector and many safety measures have been mandated by the authorities, along with the implementation of recommended good practices.
Since the resumption of the manufacturing activity, IVECO BUS, as part of the CNH Industrial group, has implemented a global COVID-19 Safety Protocol to protect and safeguard the health and safety of its employees. These priorities in mind, the manufacturer also decides to decline several devices, due to its concern with onboard health and safety, to welcome back passengers and drivers in complete confidence.

Driver's glass protection
Several existing devices have been expanded or improved since the beginning of the year. These include protection for the driver's cab, with the installation of a glazed separating the driver from the passengers, therefore protecting them from each other. This measure, which already existed on some urban vehicles, Urbanway, Crealis and Crossway Low Entry, is now available, as a retrofit and on all future orders, over the entire bus and coach range, including the Crossway LD and Evadys. This is an "OEM" solution, using ECE R43 glass.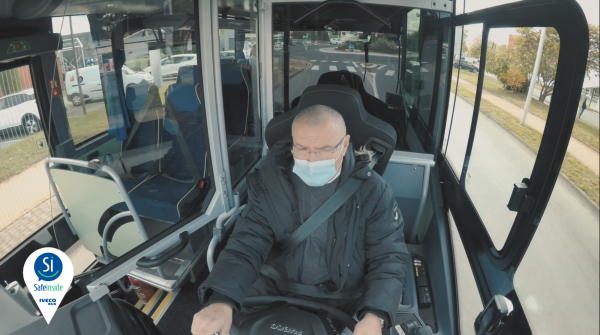 Hand gel dispenser
Automatic, contactless hydroalcoholic gel dispensers have been installed near the doors, so passengers can disinfect their hands when entering and exiting the vehicle. Operators can rest assured that these dispensers can be used thousands of times before the batteries need to be replaced or recharged.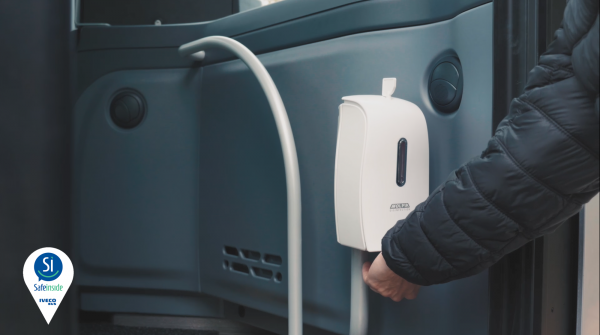 Air quality
According to current knowledge, airborne transmission is improbable. However, as a precaution, the High Council of Public Health, in addition to barrier measures, recommends air exchange to limit the accumulation of the virus in enclosed spaces.
In response to this recommendation, IVECO BUS has modified its air conditioning systems to increase the proportion of outside air coming into the vehicle. This option is already available on Crossway LE, LD and Evadys.

Treatment of surfaces and fabrics
In terms of fabrics, velour, leathers and curtains, existing vehicles are already equipped with antibacterial materials. IVECO BUS, in collaboration with several suppliers, is testing the effectiveness of coatings with bactericide, fungicide, aquaphobic and virucidal properties.
To clean up the air inside vehicles, alongside air exchange, we are testing ozone, UV and electrolysis systems, installed near internal air suction zones. These systems operate continuously and disinfect the recycled air, removing any presence of the virus.
To decontaminate the inside of vehicles automatically and on a daily basis, another device is under development. This consists in nebulising a virucidal product for a few minutes with the aim of covering all surfaces of the vehicle and treating the interior of ventilation ducts and air conditioning units, without human intervention.
Lastly, the manufacturer is very interested in nanotechnologies. Nano-coating consists in vaporising a long-lasting product in the form of tiny droplets, which is then deposited on and disinfects the surfaces of the vehicle, including seats, handles, stanchions. Currently in study phase, this solution can be effective for several months.
IVECO BUS is strongly committed to a "Safe Inside" approach to provide solutions and ensure its vehicle range offers onboard health and safety.
Based on its area of effectiveness, this combination of solutions is currently recommended to offer passenger vehicle transport that protects drivers, passengers and maintenance staff.