The IVECO BUS E-WAY by HEULIEZ performed its Record Run on the IVECO Magirus test track in Ulm, Germany. The outstanding result of 527 kilometers driven by the full electric bus on a single charge – almost twice the best autonomy performances in the industry – was certified by TÜV Südwest, the leading European technical certification centre.
Ulm, 21st October 2019
The IVECO BUS E-WAY delivered a performance without equal on the test track, demonstrating the exceptional efficiency and autonomy of the range with 527 km driven over 12 hours on a single charge.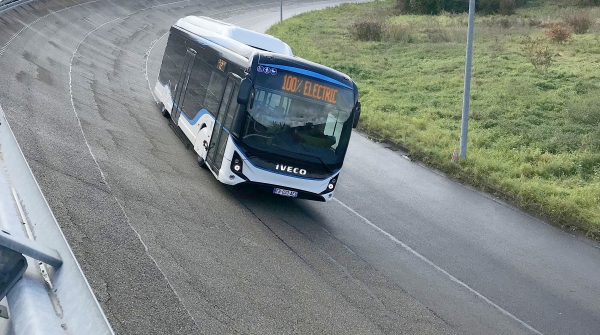 Stéphane Espinasse, IVECO BUS Brand Leader, stated: "The Record Run of our fully-electric E-WAY by HEULIEZ is a further demonstration of the exceptional efficiency of this vehicle. This performance was achieved in controlled conditions, but it is backed up by the real-life experience of our customers in their operations. For example, at the end of August, a customer's bus achieved 416 km on a full charge, operating regularly on their line in Hafenlohr, in Germany. This is a ground-breaking vehicle that offers customers all the benefits of zero-emissions transport together with high quality standards, outstanding reliability and excellent performance."
The Record Run
The optimized test was performed by a production unit of the 12-metre model in overnight charging version equipped with a 350-kWh battery pack. The fully charged bus, fitted with summer tyres, drove at an average speed of 46.6 km/h with no heating or air conditioning. The test took place on October 10th, starting at 10:00 am and was completed at 09:41 pm in light rain and windy conditions, with temperatures ranging from 10 to 15°C. The test concluded with the vehicle having clocked 527 km on a single charge, with 4% electric power left in its battery.
The E-WAY by HEULIEZ: a zero-emission solution to match every need
The IVECO BUS E-WAY by HEULIEZ is the most complete range on the market, offering a solution to match the specific needs of every customer with a wide choice of lengths (9.5, 12 and 18 metres) and charging modes (slow overnight charging, or fast charging with a pantograph). It also offers transport operators the advantages of flexibility and modularity to match their specific operating requirements with a minimum of constraints, and a supremely comfortable experience for drivers and passengers with a smooth ride and acceleration, and a spacious, well designed interior.
This range incorporates over 20 years of development and manufacturing expertise acquired by HEULIEZ in electric mobility, offering all the benefits of the recognized premium brand's excellence.