7th October 2016, Vysoké Mýto
Iveco Czech Republic, a. s., a leading European bus manufacturer based in Vysoké Mýto, continues to develop its production plant and opens a new parking lot for employees. The development plan includes both industrial investments and improvement of conditions for over 3,000 employees. Employees of the largest employer in the region will thus be able to travel to their work more easily. At the same time, it will disburden public communications around the plant, which will no longer have to be used for parking.
The construction was started in May 2016 and the contractor is PSJ a.s. Jihlava, which used the services of several local subcontractors.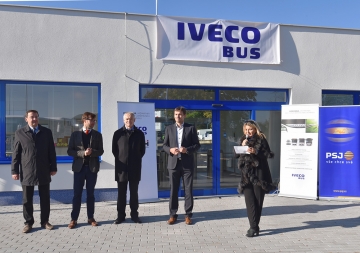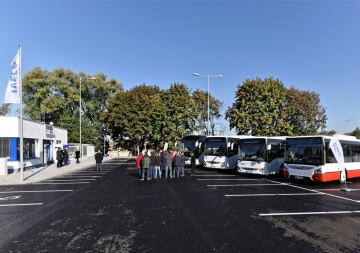 The opening ceremony of this new parking lot was attended, besides employees of the company, by General Manager of Iveco Czech Republic, Jiří Vaněk, Managing Board Member and Chief Executive of PSJ, a.s., Petr Vondruška, Mayor of Vysoké Mýto, František Jiraský and Chairman of the KOVO Trade Union, Bohuslav Vítek.
"On behalf of the employees I appreciate that the production plant expansion plans include also investments which are not directly related to production process," said Bohuslav Vítek.
Total capacity of the parking lot is almost 600 parking places for cars and includes also area for hundreds of bicycles and dozens of motorcycles. The parking lot was built in the part of the production plant's premises, which had not been used much so far. The project has included construction of new gatehouse, mains and data lines, water mains, sewerage system, implementation of extensive asphalt areas, service roads and lighting. Noise barriers and new fencing were built at parts bordering with residential districts.
"The new parking lot is one of the planned changes at our production plant in Vysoké Mýto. It will not only improve conditions for our employees, but it will also ease our supply logistics by clearing the former parking areas. We want to keep improving the used technologies, instruments and services," declared Jiří Vaněk, General Manager of Iveco Czech Republic, a.s.