15th June 2016, Vysoké Mýto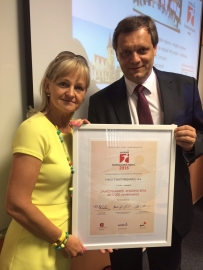 For the first time in the history of the Employer of the Year contest, Iveco Czech Republic, a. s. has fought its way to the nationwide finals where, in a tough competition, it ranked 10th in the category of up to 5,000 employees. The bus manufacturer from Vysoké Mýto qualified for the nationwide finals thanks to its results which brought the company the silver award in the regional round of the contest, where Iveco Czech Republic has been ranking regularly among the top three employers in this category since 2004.
The award was received by Iveco Czech Republic Human Resources Director, Alena Kozáková. She considers one of the main reasons why Iveco again succeeded in the competition the increased emphasis on employee benefits. "Our ranking among the ten best employers in the Czech Republic in our category and the repeated ranking among the best three employers of the region of Pardubice is very pleasing to us and we are proud of the work of our employees who have helped us achieve excellent economic results. The award and evaluation confirmed the right decision to invest, among other things, into employee benefits in order to increase the attractiveness of our company on the labor market."
The Sodexo Employer of the Year, organized by the Employers' Club, is based on tough criteria of assessment according to the international methodology of PwC Saratoga.
These include, for example:
total remuneration costs related to yields
degree of internal promotion and career development
training hours per employee
hours dedicated to communities
days of absence per employee
voluntary job quits rate
* In the picture you can see Iveco Czech Republic Human Resources Director, Alena Kozáková, and HR & Security Manager, Miloš Huryt, with the silver award in the Employer of the Year contest.