22nd November 2016, Prague
The new tourist coach from Vysoké Mýto was presented for the first time in the Czech Republic at the Czechbus 2016 fair. The main benefits of new Evadys are unrivalled universality and economic operation. The disposition of Evadys is a link between the Crossway and Magelys models and thus it completes the range of Iveco Bus tourist coaches.
The new 13 m long Evadys with the Cursor 9 (400 HP) engine and a Voith gearbox, which showed up at the stand of Iveco Bus, has been designed specially to meet demands of regional and nationwide lines as well as short- and medium-distance tourist coach transport. Its design is based on the Crossway model, but thanks to a raised floor it offers up to 3m3 of extra storage space.
In addition to the new Evadys, Iveco displayed at the indoor exposition also the 13 m long Crossway Low Entry City with a diesel Cursor 9 engine manufactured for the public transport operator in Prague, which will transport passengers on the Airport Express line between the main railway station and the Airport of Václav Havel. The interior of the bus is specially modified for transport of huge quantity of baggage. Apart from a full-bodied air-conditioning, the bus offers passengers also a contactless payment system, USB sockets and Wi-Fi.
At the outdoor exposition, Iveco Bus presented a wide product range of buses with engines meeting the Euro VI emission standard:
URBANWAY 12 m, Cursor 8 CNG
CRW LOW ENTRY LINE 12 m, Tector 7
CROSSWAY LINE 12 m, Tector 7
CROSSWAY PRO 13 m, Cursor 9
MAGELYS PRO 12.2 m, Cursor 9
HEULIEZ BUS GX137 9.52 m, Tector 7
a Daily 65C,  Daily 70C with a tourist minibus bodywork superstructure.
The Iveco Bus brand is exceedingly successful in the Czech Republic. Currently, Iveco Bus is number one regarding the number of registered M2 + M3 vehicles in the Czech Republic with a market share of 29.4%. With a market share of 48.34%, Iveco Bus has a dominant position in Slovakia, where it is also the market leader.
In 2015, the plant in Vysoké Mýto exceeded the historic production record when it produced a total of 3,728 buses. Especially the Crossway vehicles, which are the most successful intercity bus of today, contributed to the overall result of the last year.
The record number of sold buses shows that customers appreciate their quality, reliability and optimized operating costs.
In October, Iveco Czech Republic, a. s. was awarded the Company of the Year in the Automotive Industry prize by the Automotive Industry Association. The Sodexo Employer of the Year 2016 contest assessed Iveco Czech Republic as the 10th best Czech employer of up to 5,000 employees.
New Evadys: A universal solution for your profit
The new Evadys has been specially designed to meet the growing demands of regional and nationwide lines, as well as demands of short- and medium-distance tourist coach transport – demands focused on top-class services combined for both line and trip transport.
Simply put, the new Evadys is ideally suited to travels with frequent stops for which classic touring coaches are less suited but which are long enough to require perfect performance and comfort for passengers.
New Evadys is produced in the Czech Republic at the Iveco Bus plant in Vysoké Mýto where it has recently joined the Crossway vehicles the score of which have been over 28,000 units manufactured here since the assembly line was opened in 2006. New Evadys completes a luxury segment of combined line buses/coaches which, in addition to higher performance and comfort, also require a lot of luggage capacity.
Thanks to its origin, new Evadys boasts of the same dimensions as Crossway: two lengths (12 m and 12.96 m), 2.55m width and 3.46m height (with air conditioning). It also offers the same advantages in terms of easy operation, ergonomically designed driver's workplace, active and passive safety systems (ABS, ASR, ESP, LDWS, R66.02) and reliability. The new Evadys also brings increased comfort thanks to improved aerodynamics and a dual-mass flywheel that reduces noise and vibration and is highly valued in this class. These advantages, together with the anti-corrosion treatment of the body by cataphoretic immersion to ensure its longevity, guarantee a high residual value of the vehicle.
New Evadys uses a more powerful and versatile 400 HP version of the Cursor 9 engine, with a choice of mechanical, robotic or automatic gearboxes.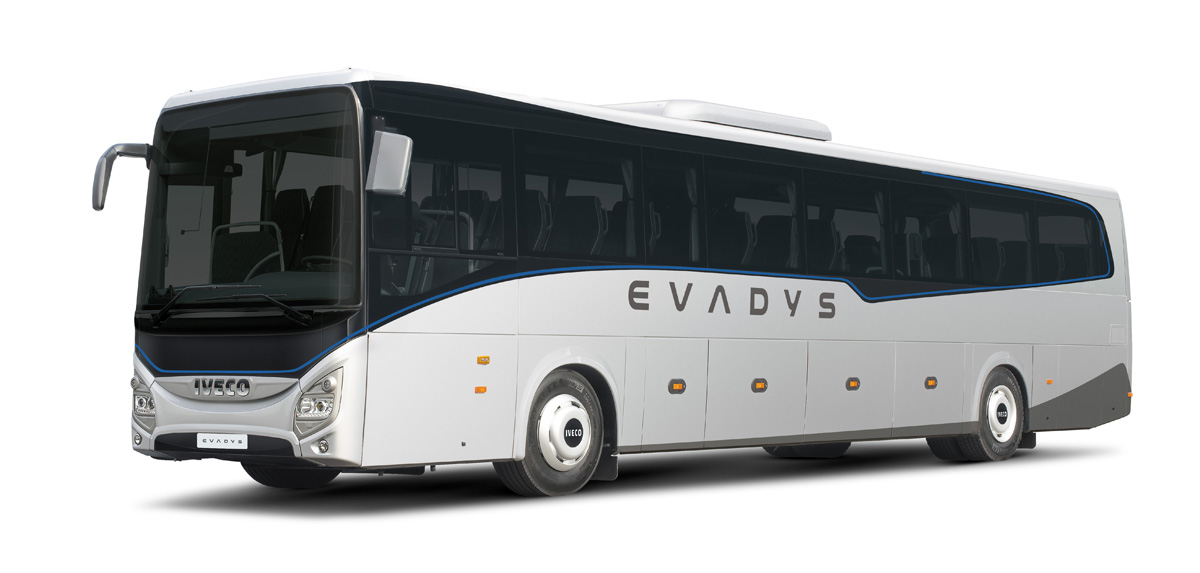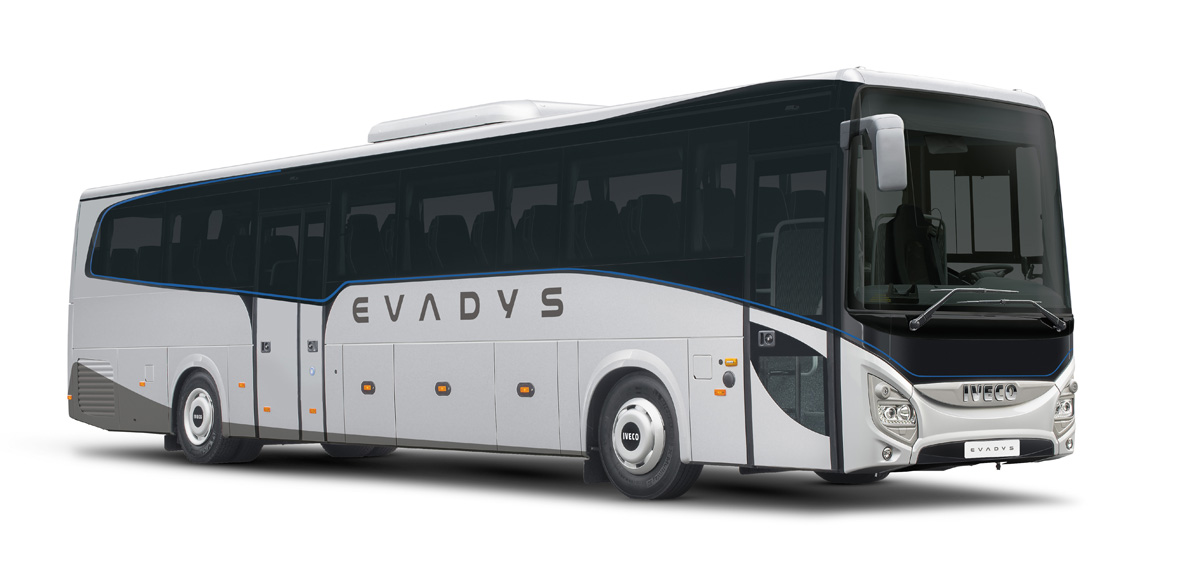 With a floor height of 1,142 mm above the ground, the new Evadys is an ideal Iveco Bus vehicle for medium-distance transport and thus represents an intermediate stage between Crossway with a standard floor height (860 mm) and HD Magelys with a raised floor (1,400 mm).
Luggage compartments of new Evadys are on average 3 m3 larger than luggage compartments of Crossway. The luggage compartment doors are easier to use, hinged on pantographs with central locking.
New Evadys also excels in comfort, equipped with double glazing, improved insulation, and optional higher-quality seats (Spacio model). Standard equipment also includes individual air-conditioning outlets for each passenger, indirect LED lighting in the passenger compartment and an electrical driver's window. Optional equipment includes a refrigerator integrated into dashboard, coffee machine, kitchenette, LCD displays, USB sockets and Wi-Fi.
There are three types of doors available to accommodate different seat configurations: a single-wing central door in case of WC situated in the centre, a two-wing central door with enough space for wheelchair access ramp and a single-wing rear door to maximize the use of the record-size luggage compartments offering 10.2 m3, which together with the 1.8 m3 volume of inner luggage racks give a total of 12 m3 of luggage space (in case of the 12.96 m long model).
The possibility to choose from 15 different seat configurations makes new Evadys an ideal multipurpose coach.
New Evadys is the only model on the market with Crossway's DNA and Magelys's experience. It is a true champion in terms of versatility both on working days and weekends – more efficient, more comfortable, provides more luggage space than a line bus, but is also more compact, ensures easier access and has a lower weight – hence also a lower fuel consumption than a tourist HD-class bus, while offering a higher payload.
It is equipped with a 400 HP Cursor 9 engine, which is just as powerful as Magelys. The exclusive HI-SCR technology without exhaust gas recirculation (EGR) and therefore without the risky high-temperature particulate filter regeneration, maximizes engine performance while reducing harmful emissions, thereby helping to improve the environment. The economy of the Cursor 9 engine is highly appreciated by operators and, along with longer maintenance intervals, it contributes to the very attractive overall operating costs that are the best in their class.