4th June 2015, Vysoké Mýto
Iveco Czech Republic, a. s., the part of Iveco Bus, presented a unique novelty during the celebrations of the 120th anniversary of the production plant on 4th June. Bus Design Centre in Vysoké Mýto is a unique space where customers can try various controls of the bus and their arrangement, examine and choose interior materials and configure their bus to suit their needs. The new bus visualisation and configuration instrument will lead to even a closer contact with customers at the time when the order and technical specifications of vehicle are being formed.
Models of bus components are displayed in Vysoké Mýto Bus Design Centre, including technical solutions and interior components such as seats and upholstery. Drawings and visualizations are thus available for customers at one place, they can touch specific materials and fabrications, can try individual controls and rearrange them.
"An overwhelming part of our production is intended for various European markets, and this is why there are varied demands on our buses, due to different climate, road quality, local traditions and specific operating conditions. We find, together with our customer, the ideal solution in our Bus Design Centre, and buyers thus have a definite notion what the final product will look like and how it will work in advance," says Jiří Vaněk, General Manager of Iveco Czech Republic, a. s.
Buses are very complex products, there are hundreds of possible combinations of components and interior equipment materials, and for customers it may be difficult to orientate themselves in them. Thanks to Bus Design Centre it is possible to comply with customers' wishes as much as possible and to explain benefits of the offered solutions on the spot. Also, for the manufacturer himself it is favourable to know the complete specification as quickly as possible, because it enables him, besides other things, to prepare the manufacturing process perfectly in cooperation with suppliers.
Bus Design Centre was built in 2014. The trial run has begun in March. The space of Bus Design Centre will be shaped permanently, depending on new demands of customers and on the continuously growing offer of new Iveco bus models.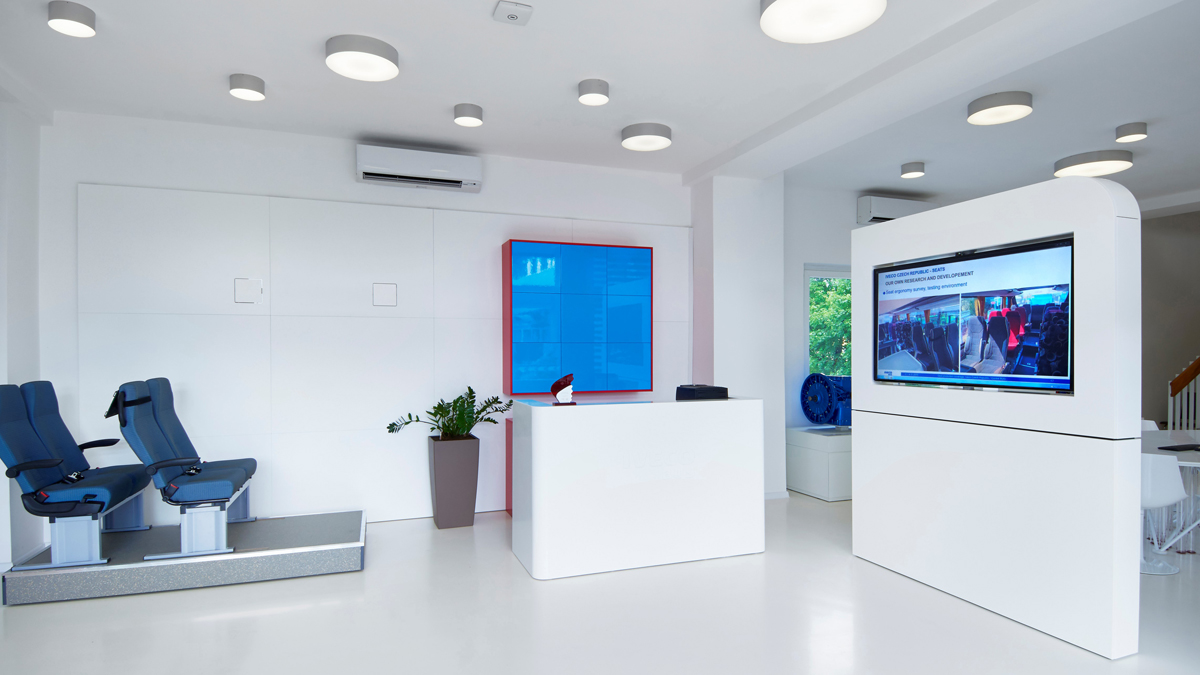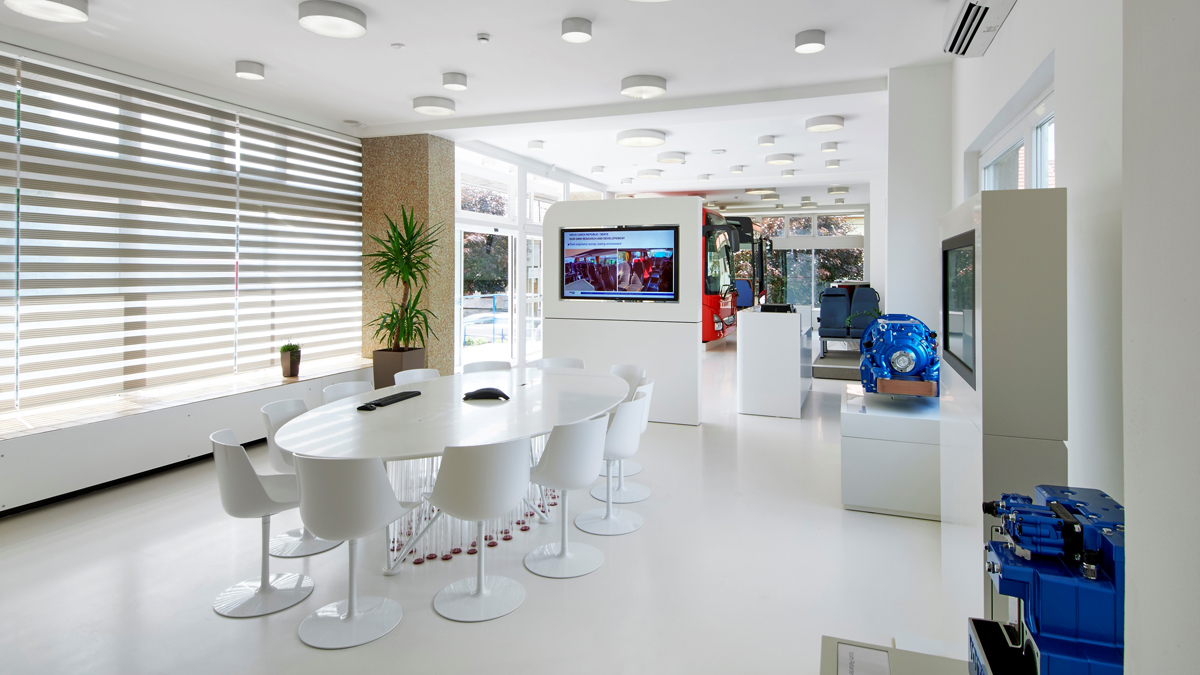 At present, Bus Design Centre is dominated by bus segments completely equipped with dashboards and driver's workplaces, a large revolving screen of electronic configurator, and a special stage intended for testing various passenger seats. This stage enables to configure distances between seats and, at the same time, it automatically calculates the maximum number of seated passengers in the bus depending on the length of the vehicle. Well-arranged fabric samplers are available here – it is possible to try one of 130 patterns and to see, on the screen, what the upholstery fabric will look like on all the seats in combination with the floor material and the colour of the interior. The floor of the first storey then represents a complete sampler of bus interior covering materials.
"This way customer can also explain to us his experience of our buses in operation: we are always pleased to listen to him and afterwards we can offer the latest advanced solutions. We can configure technical specifications to suit customers' demands and the intended type of operation as much as possible," adds Jiří Vaněk.
Bus Design Centre is a common project of all the sections of the Vysoké Mýto production plant and several key suppliers, who participated in its development.