Launched a few months ago, the newest generation of the Daily Minibus can meet all passenger transport needs: a school minibus to transport schoolchildren, an intercity bus with the largest passenger capacity in its category and a touring minibus for pleasant, comfortable travel.
On Busworld, IVECO BUS will take the opportunity to present this renewed range, displaying a Daily Tourys on its stand and providing a Daily Line NP Hi-Matic for test drive.
Visitors could also discover for the very first time the new Daily Start, running on natural gas.
Brussels, 17th October 2019
IVECO BUS has designed the "minibus" version of its Daily, developing a vehicle which sees the long-recognized qualities of the Daily combined with all the expertise of a passenger transportation industry leader.
This new generation - both available in diesel and alternatives energies – further improves the existing one and meet all passenger transport needs with four different versions :
a school minibus to transport schoolchildren (Pop), a shuttle minibus perfect for the short trips (Start), an intercity bus with the largest passenger capacity in its category (Line) and a touring minibus for pleasant, comfortable travel (Tourys).
Daily Pop
With 3 different lengths and engine power (160 hp, 180 hp and 210 hp), the Daily Pop is perfect to transport schoolchildren. It offers a very high passenger capacity, for an optimized total cost of ownership: up to 32 passengers for secondary school and to 45 for elementary school.
Daily Start
The Daily Start is a 6-meter-long "entry-level" vehicle. Simple, functional and profitable, it shares with the Daily both its DNA and the features that have already seen many years of success.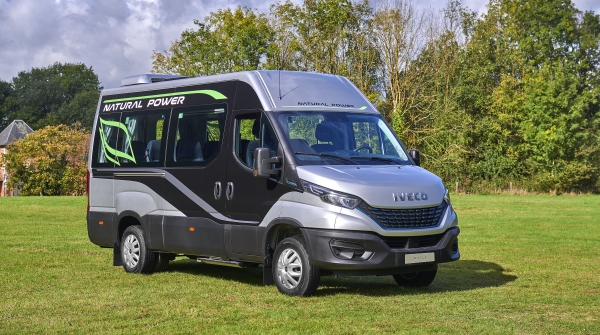 Available with either a 150hp or a 180hp diesel engine or, for the very first time, a natural gas engine, it offers 3 different lengths and multiple interior layouts to accommodate up to 22 passengers. A dedicated space for wheelchair is also available to improve accessibility for disabled people. The standard configuration of the Daily Start is equipped with a manual sliding door with a footboard. The vehicle's entrance has been redesigned to meet the R107 standard concerning step dimensions.
To increase the Daily's versatility, the basic version can be improved with options such as the electric sliding door with a retractable step, or centralized air conditioning. The Daily Start is thus positioned as a vehicle suitable for a wide variety of uses, from an airport or river shuttle to a taxi service.
Daily Line
Available in 3 lengths and with 3 door types (manual, electric or sliding), the Daily Line is ideal for extra-urban travel. It offers a very high passenger capacity and low operating costs. With its different seating configurations, it can accommodate up to 22 passengers.
Thanks to the rear platform and quick-release seats in the last few rows, available upon request, the Daily Line facilitates access for passengers with reduced mobility. It can also be equipped with special features such as a ramp for wheelchair users, route displays, space for ticket validation machines and stop request buttons.
Daily Tourys
The Daily Tourys is the perfect touring minibus to travel with comfort and style. Its atmospheric LED lighting improve the vehicle's interior light and passenger wellbeing. The 2.5 m3 baggage compartment and the new interior racks make it the best in its class in terms of total storage space. It is fully compliant with the anti-rollover standard (R66.02).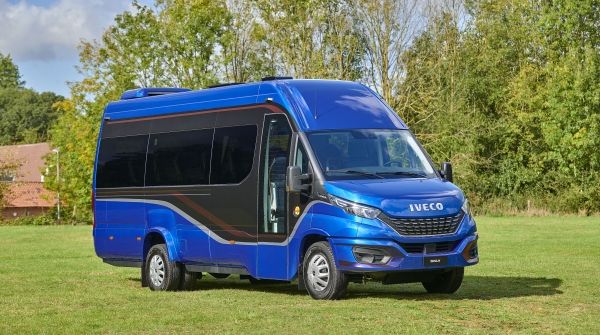 Available in 3 lengths, it is equipped with pneumatic rear suspension, air conditioning, an audio-visual multimedia setup, USB plugs for each pair of seats and the much-appreciated LDWS driving assistance system, which prevents the driver from being distracted or nodding off.
The exclusive 8-speed Hi-Matic transmission, now a standard feature, guarantees maximum performance with low operating costs and the utmost in driving pleasure. Faster and more precise than the traditional 6-speed manual transmission, it offers changes without torque interruption in less than 200ms for high-level performance.
Daily Minibus Natural Power: when sustainable transport becomes a reality
It is equipped with a 3-litre 136hp engine with 350 Nm of torque, the best in its class. This engine is extremely rugged and guarantees higher torque and better handling, for optimum performance with no compromises.
The environmental performance of the Daily Minibus Natural Power is just as remarkable as diesel: its engine complies with the Euro 6/D standard, with 76% less fine particle emissions and 12% less nitrogen oxide emissions than a diesel engine, which already generates very low emissions. In real operating conditions in an urban context, the CO2 emissions of the CNG engine are 3% lower than those of the equivalent diesel engine.
The application of Hi-Matic transmission to natural gas further improves this performance by extending the difference to 5%. In addition, when used with biomethane, CO2 emissions can be reduced even further, by up to 95%.  It's the first time that the Natural Power engine is combined with the exclusive Hi-Matic 8-speed automatic transmission. This combination offers a whole new dimension in passenger transport, making the Daily Minibus Hi-Matic Natural Power the best in its class in terms of performance and respect for the environment. A Telma retarder can also be added, to further improve driving comfort and passenger safety.
The Daily Minibus Natural Power is also highly fuel-efficient. The lower price for compressed natural gas, when compared with diesel, results in a very competitive cost per kilometre. Indeed, when factors such as fuel price, engine efficiency and energy value are considered, natural gas can generate cost savings in comparison with diesel. As such, it is an economically sustainable solution.
Besides, the significantly lower sound level makes this vehicle remarkably clean and quiet, a major advantage in low-emission zones.