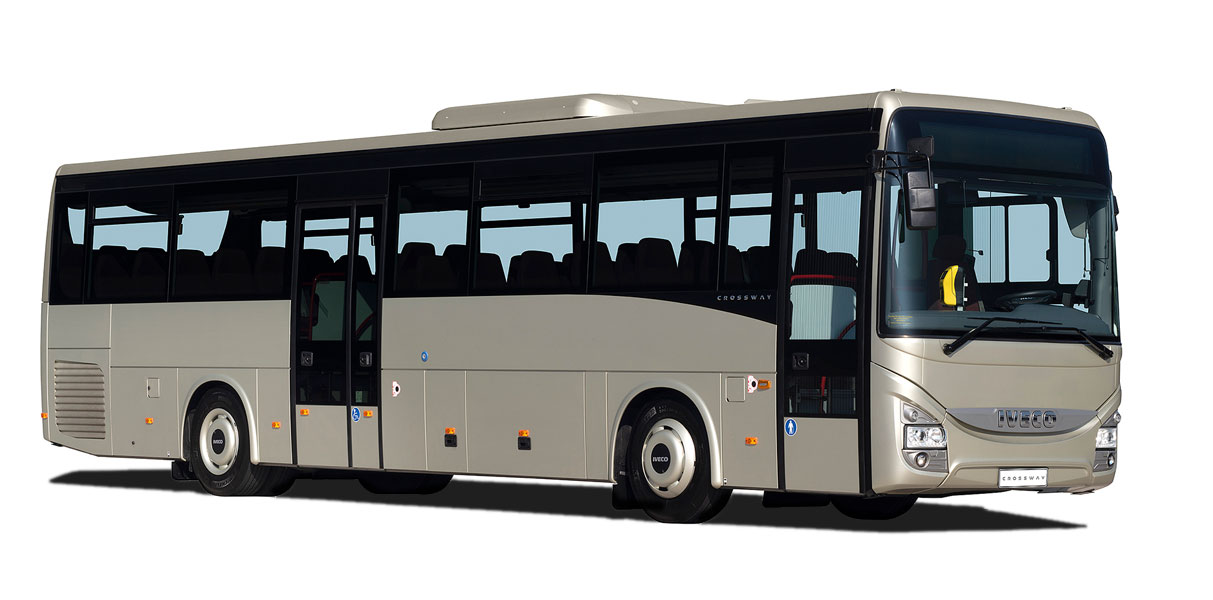 Versatility
Three lengths (10.8 m – 12 m – 13 m)
Broad variety of layouts

For drivers
Temperature comfort
Optimized luggage compartment

Design
Modern style
Easy maintenance

Productivity
The lowest operating costs in its class
CROSSWAY
More than 90 years of bus production experience have taught us what is most demanded from our vehicles. It is reliability.
Our Crossway buses represent the highest and most successful challenge in the world of public transport: carrying millions of people across Europe in a safe and comfortable environment, a high and reliable technological content at the best economic conditions in the market. Crossway is distinguished by fuel efficiency, longer service intervals, higher safety and many more enhancements.
In anticipating requirements for cleaner air and low-carbon mobility by introducing a newly designed CNG-powered Crossway coach, IVECO BUS is providing the right vehicle for sustainable regional transport.
Market leader in Europe. Best experience.
1,000,000 km by range
Equivalent of 6,000,000 km on European Roads by range
1,600,000 km in real transport condition
The foundation for quality production.
Crossway datasheets and brochures
Crossway LINE

[PDF] Diesel EURO VI - 10.8 / 12 / 13 m

Crossway POP

[PDF] Diesel EURO VI - 10.8 / 12 / 13 m

Crossway Natural Power

[PDF] Natural Power Line/POP - 12 / 13 m

EURO 6 - STEP E
Product brochure
Sale and after-sales of the Crossway product range
Sale of the Crossway range

Our dealers are abundantly experienced in their field and territory, they understand the world of transport more than anyone else.

After-sales of the Crossway range

IVECO BUS has a sophisticated structure of specialized services and after-sales with the support of 2,000 service points in Europe.

Non-stop assistance

IVECO assistance services are available 24/7 on a free info-line.