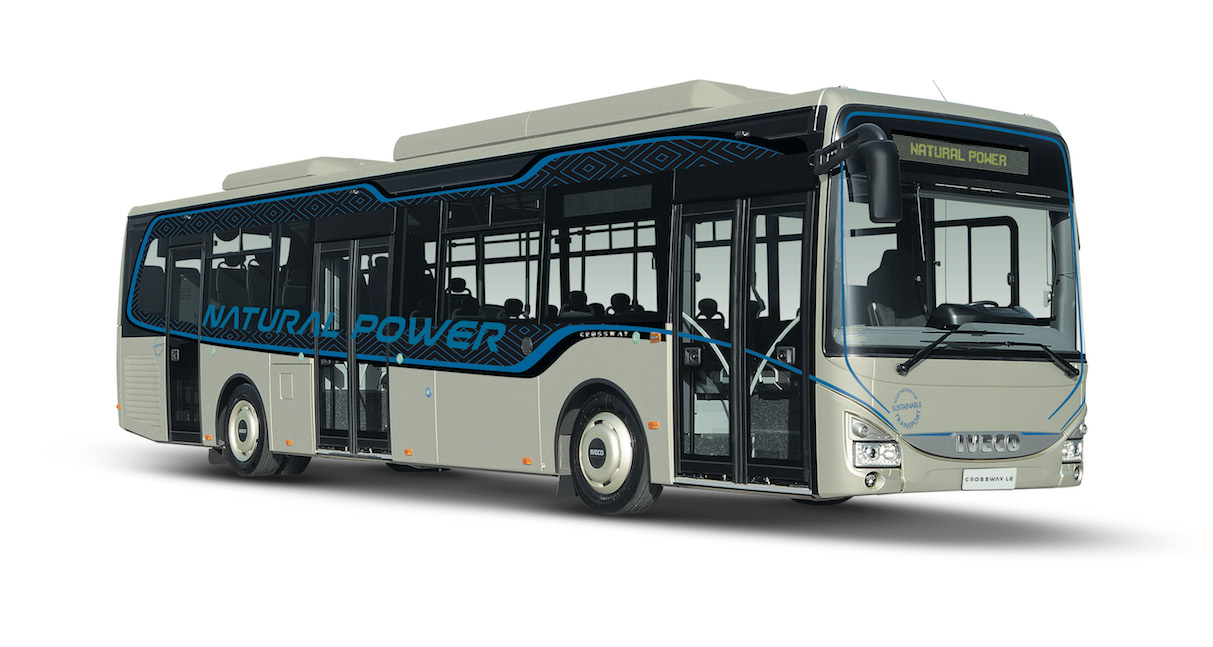 Accessibility
Easy in and out access
Easy passengers flow

Driver area
VDV/EBSF compliant
Generous space & Thermal comfort
Optimised storage

Efficiency
Euro VI Diesel engines
Natural Power engine

Versatility
A complete range for all missions
Four lengths (10.8m - 12m - 13m - 14,5m)
CROSSWAY LOW ENTRY
The Low Entry concept guarantees excellent accessibility for all passengers entering and exiting the vehicle.
The power train, based on the proven Crossway normal-floor vehicle, enables fast and economical transport on intercity high-speed roads as well as in the city environment. Crossway Low Entry is available in two versions: CITY and LINE and four lengths: 10.8m, 12m, 13m and 14,5m with three axles with one of three possible drivelines: Diesel HI_SCR Tector 7 and Curosr 9 and Cursor 9 Natural Power.
The New Crossway Low Entry Natural Power is economical solution for all transport needs. The Natural Power solution put the IVECO BUS expertise at the service of sustainable transport. Patented full integration of gas bottles in the roof yields the lowest height on the market (3.210m). Crossway LE Natural Power is perfect for any route giving maximum stability on the road.
The New Crossway Low Entry 3 axles provides outstanding passenger capacity thanks to the third axle, while also ensuring excellent vehicle handling given its length. The third axle with electro-hydraulic steering system integration and the best turning circle in its class (23.8m) allow for easy manoeuvrability. It is and ideal partner for both city and intercity missions such as line operations on regional / national roads requiring significant passenger capacity.
Crossway Low Entry Natural Power
Crossway Low Entry 3 Axles
Market leader in Europe. Best experience.
1,000,000 km by range
Equivalent of 6,000,000 km on European Roads by range
1,600,000 km in real transport condition
The foundation for quality production.
Crossway datasheets and brochures
Product Brochure
Technical Datasheets
Sale and after-sales of the Crossway product range
Sale of the Crossway range

Our dealers are abundantly experienced in their field and territory, they understand the world of transport more than anyone else.

After-sales of the Crossway range

IVECO BUS has a sophisticated structure of specialized services and after-sales with the support of 2,000 service points in Europe.

Non-stop assistance

IVECO assistance services are available 24/7 on a free info-line.