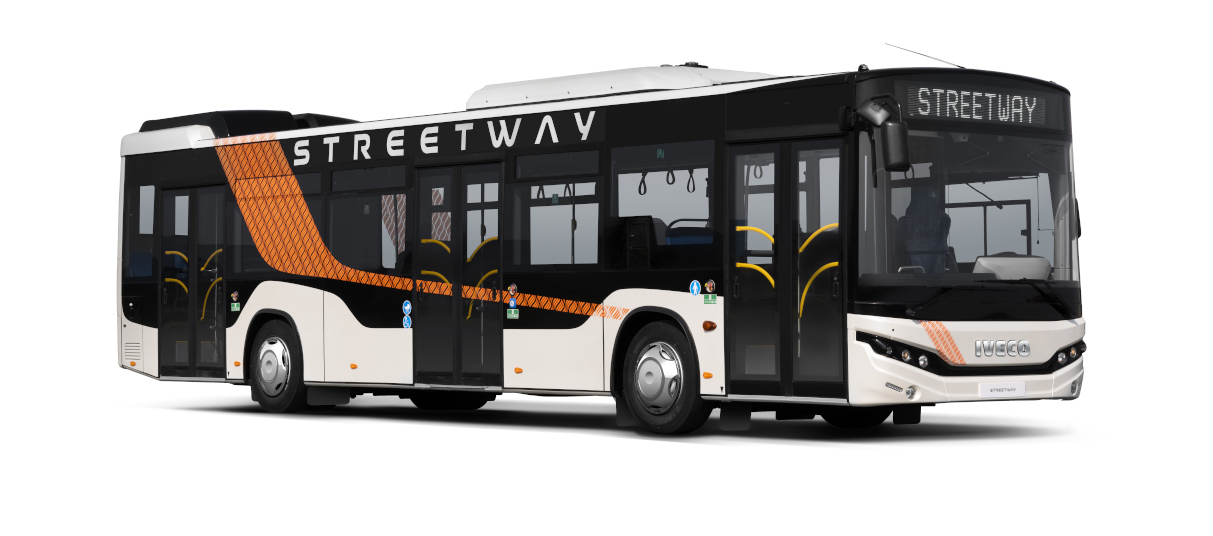 STREETWAY
STREETWAY is a low-floor city bus with excellent versatility (choice of lengths, technologies, gearboxes, seats layouts, number of doors, thermal comfort) that provides an effective solution to the specific operational requirements of the individual customers in terms of styling, comfort and operating costs.
The STREETWAY low-floor city bus is available in 12 and 18.75 meters long versions. A robust, proven vehicle, it builds on the expertise of a major player in passenger transport and on the core values of durability and performance, operational efficiency, proven reliability and services.
The vehicle's self-body structure is made of welded sections and glued side panels in aluminium sheet that benefits from a high-quality anti-corrosion treatment guaranteeing long-lasting life, an additional advantage in favor of durability and reliability that contributes to the STREETWAY's low TCO.
Supported by the widespread IVECO BUS service network and extensive offering of connected services, the STREETWAY can be relied on to deliver industry-leading sustainable urban mobility.
STREETWAY will perfectly meet our brand's ambition to offer a TCO Champion, providing public transport authorities with an efficient, best-in-class performance and a sustainable mobility solution.
Sale and after-sales of the Streetway product range
Sale of the Streetway range

Our dealers are abundantly experienced in their field and territory, they understand the world of transport more than anyone else.

After-sales of the Streetway range

IVECO BUS has a sophisticated structure of specialized services and after-sales with the support of 2,000 service points in Europe.

Non-stop assistance

IVECO assistance services are available 24/7 on a free info-line.