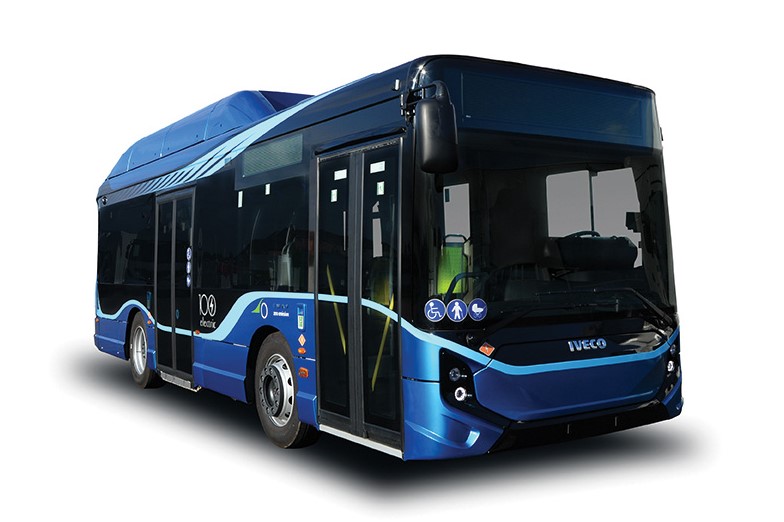 E-WAY
Available both in standard and articulated versions, E-WAY has been designed to be operated in dedicated bus lanes in order to improve the journeys and the living environment of the city-dwellers and so offer a service close to what as can offer other conventional systems of public transport. 
Thanks to their different interior and exterior levels of customization, the E-WAY models are providing well-being and conviviality. They contribute to the image and attractiveness of urban transport.
The roof trim parts, the wheel covers, its lines are creating emotion. E-WAY is perfectly integrated in urban scenery.
On board, the multiple possibilities of materials choice and the custom-made arrangements upgrade the passengers compartment. The plunging shape of the instrument panel gives the driver an excellent visibility and improves the driving comfort.
E-WAY includes aesthetic and comfort properties for both passengers and driver. Its dynamic front side with a resolutely contemporary design, its wide windscreen with round volumes, its strong and reassuring style ensure faster and more reliable journeys. Thanks to its features, E-WAY perfectly meets the changing demands of urban mobility.
E-WAY technical datasheets and brochures
Sale and after-sales of the E-WAY product range
Sale of the E-WAY range

Our dealers are abundantly experienced in their field and territory, they understand the world of transport more than anyone else.

After-sales of the E-WAY range

IVECO BUS has a sophisticated structure of specialized services and after-sales with the support of 2,000 service points in Europe.

Non-stop asistence

IVECO assistance services are available 24/7 on a free info-line.