On May 23rd and 24th, IVECO BUS organized a 2-day event dedicated to minibuses and certified Busmaster bodybuilders. More than 20 of them participated at the event, which was held in Baveno on the shores of Lake Maggiore, Italy.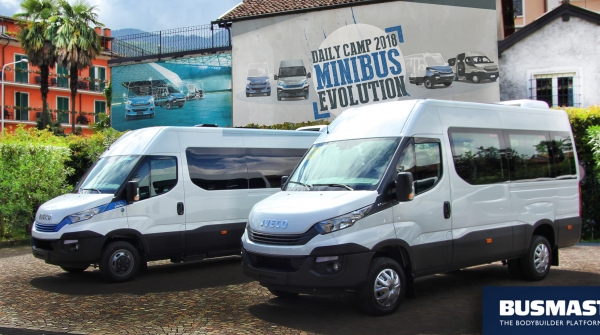 Saint-Priest, June 25, 2018
For the second year, the Daily Minibus Camp and Busmaster program have become a key event for IVECO BUS commercial team and certified  bodybuilders to share the latest evolution in the portfolio. 
With the first day devoted to IVECO BUS sales staff networking with coachbuilders, the second was focused entirely to deepening their knowledge and understanding of the brand's products.
This event was also an opportunity for IVECO BUS to strengthen its relationships with the coachbuilders that it recognizes and certifies. More than 40 of them – across Europe and Asia-Pacific – are now partners of and certified by IVECO BUS.
Although also featured on its dedicated website – www.busmaster.com – the topics covered today focused on new regulations and new products, particularly those relating to Daily. Two minibuses were on show: a Daily Start and a Daily Blue Power – best in class in terms of performance and environmental impact for sustainable mobility.
At the end of the two days, 14 coachbuilders saw their BUSMASTER accreditation renewed, with 4 others receiving a special prize: INDCAR, FORVEDA, ROSERO, FERQUI.
With ready-to-use chassis, IVECO BUS meets every requirement for passenger transport, while offering customized after-sales service and quality thanks to its network of certified coachbuilders.