The new STREETWAY extends and complements the IVECO BUS city bus range with a solution designed to deliver economic and operational efficiency in urban transport. It offers the benefits of a proven vehicle combined with all the advantages of the fast and effective support of the widespread IVECO BUS network and a full set of the brand's OEM associated services.
Turin, 21 September 2021
IVECO BUS presents the new STREETWAY city bus, completing its OEM offering with a new low-floor bus designed to deliver economic and operational efficiency in urban transport.
With this new range, the brand will be able to offer a complete portfolio to meet the various requirements in targeted markets in Central, Eastern and Southern Europe, as well as Africa, the Middle East and Asia.
The STREETWAY low-floor city bus is available in 12 and 18.75 meters long versions. A robust, proven vehicle, it builds on the expertise of a major player in passenger transport and on the core values of durability and performance, operational efficiency, proven reliability and services. Supported by the widespread IVECO BUS service network and extensive offering of connected services, the STREETWAY can be relied on to deliver industry-leading sustainable urban mobility.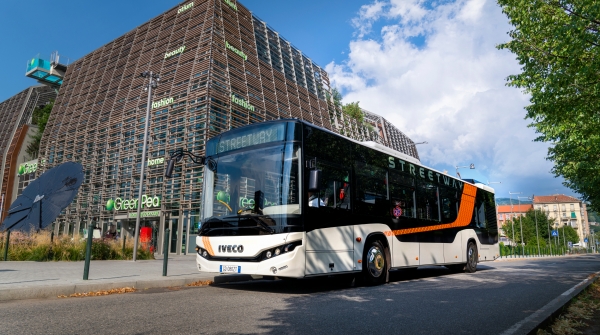 Stéphane Espinasse, IVECO BUS Brand Leader: "The extension of our urban offering with the new STREETWAY is an important step. This city bus will perfectly meet our brand's ambition to offer a TCO Champion, providing public transport authorities with an efficient, best-in-class performance and a sustainable mobility solution."
 A cost-effective solution for clean city transport
STREETWAY complies with Euro VI-E standards and benefits from the excellent reliability offered by the IVECO BUS latest Cursor 9 Euro VI engines developed by FPT Industrial, powered by diesel or natural gas.  In longitudinal position, the engines are coupled with either the VOITH Diwa 6 or ZF Ecolife 2 automatic gearbox, and to a ZF AV 133 rear axle.
Standard (12m) or articulated (18,75 m), the Diesel HI-SCR versions of STREETWAY deliver respectively 310 hp (1300 Nm) and 360 hp (1650 Nm).  This exclusive technology without exhaust gas recirculation (EGR) helps to reduce fuel consumption as well as significantly lowering emissions levels.  The environmental performance can be further enhanced by running on second-generation biofuels.
IVECO BUS, a pioneer in the development of alternative energies for more than 20 years, offers an alternative propulsion version powered by CNG engines developing 310 hp - 1300 Nm (standard) and 360 hp 1640 Nm (articulated).  Their high-capacity tanks – up to 1,600 litres for the 12-m model and 1,805 litres for the 18,75 m –, ensure excellent autonomy in urban missions.
These CNG versions help to preserve natural resources, as they are fully compatible with biomethane, which can be generated from the recovery of organic waste. Thus, the STREETWAY in Natural Gas guarantees an excellent carbon footprint and represents a tangible step forward in the energy transition. The environmental benefits then translate into CO2 reductions of up to 95%.
With its choice of versions, STREETWAY represents a sustainable and efficient solution to meet the mobility challenges of today and tomorrow.
 Designed for optimum operational efficiency
STREETWAY is a low-floor city bus with excellent versatility (choice of lengths, technologies, gearboxes, seats layouts, number of doors, thermal comfort) that provides an effective solution to the specific operational requirements of the individual customers in terms of styling, comfort and operating costs.
It facilitates passenger entry and exit with a choice of two, three or four 1,200-mm wide inward access doors, while the integral low floor optimizes traffic flow in the passenger compartment. Easily accessible to all passengers, the STREETWAY can accommodate up to 16 passengers seated in low-floor position in its central section. It also can be equipped with an access ramp and a dedicated internal area for disabled passengers.
The driver's area of the STREETWAY includes a glazed cabin door and overhead storage.
It features an adjustable steering column and Actia Multic S.digital cluster.
The STREETWAY introduces a wide range of standard features to improve safety on board for both passengers and driver, such as electronic brake systems (EBS, ABS, ASR), alerts for increased temperature in engine compartment, automatic fire extinguisher system, sensitive edge and passenger detection at doors. An Electronic Suspension System ensures a stable and comfortable driving experience, and optimum traction for braking performance and steering stability.
The maintenance is simplified by the engine being in longitudinal position and all components being easy accessible through dedicated outside flaps and doors outside, and hatches inside the vehicle. The excellent efficiency of the Cursor 9 Euro VI engines, as well as their cost-efficient and practical design, deliver significant savings for an optimized TCO and operating efficiency.
A proven reliability
An exclusive OEM product, the STREETWAY adopts the IVECO BUS family styling, with the brand's signature front end and the integration of the IVECO logo, and the design's clean lines that reflect the vehicle's stand-out simplicity, robustness and quality.
The STREETWAY's exceptional reliability derives from its robust, proven Diesel or CNG technologies developed by FPT Industrial, and its tried and tested components and assemblies.
The vehicle's self-body structure is made of welded sections and glued side panels in aluminium sheet that benefits from a high-quality anti-corrosion treatment guaranteeing long-lasting life, an additional advantage in favor of durability and reliability that contributes to the STREETWAY's low TCO.
 Full set of OEM associated services
The STREETWAY comes with all-round support from IVECO BUS's widespread service and parts network and a full offering of services: financing, training, maintenance contract, OK BUS…. which are key pillars for the brand, ensuring thus that all customers will continue to receive industry leading sustainable mobility solution.
All IVECO BUS after-sales services are designed to help operators make better use of their fleets. They guarantee safety, maximum uptime and optimal operation throughout the vehicle's lifecycle thanks to a fast and efficient support always available, and with the greatest attention to the TCO.