As a major player in sustainable transport, IVECO BUS breaks new ground at Busworld and affirms its position in the electromobility field with a complete offer on its stand. In addition to the already recognized Crealis In-Motion-Charging, IVECO BUS unveils its brand-new electric bus : the IVECO BUS E-WAY.
Brussels, 17th October 2019
In the face of growing public awareness about Climate Change and the need for action, the pressure to become carbon neutral soon will be more intense and regulations will become even more demanding. IVECO BUS drives forward its strategic focus on sustainable transport with the technological choice to further invest in developing its electric mobility offering.
As the transport industry's energy transition is accelerating, electromobility is entering a new phase as a high-volume market. For this reason, IVECO BUS is taking another important step to provide its customers with a complete and flexible electromobility offer and unveils a brand-new electric bus: the IVECO BUS E-WAY.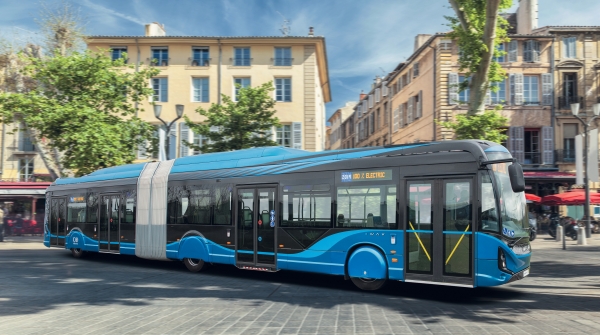 IVECO BUS E-WAY by HEULIEZ: a new step toward electromobility
Electromobility is in HEULIEZ's DNA: it has a long history of leading the way with generations of trolleybuses and full-hybrid buses. Long ago – before the introduction of Euro VI bus generations – it transformed its industrial footprint to incorporate alternative traction buses in full production. Its focus on electromobility extends to its test track, which is equipped to with different charging systems. The design "by HEULIEZ" incorporates all of this. It leverages over 20 years of development and manufacturing experience of this recognised premium brand to take the HEULIEZ Full Elec excellence to the fast-growing customer base in the international markets.
With the E-WAY by HEULIEZ, IVECO BUS extends its electromobility offer, which is today the most complete range available on the market.
Designed to suit every need, the E-WAY by HEULIEZ is available in 3 different lengths (9,5 m, 12 m and 18 m), with a choice of overnight slow charging or fast charging using a pantograph. Flexibility is pushed to its maximum with a choice of number of batteries, which means the vehicle can match exactly the customer's specific autonomy requirements and doesn't have to carry extra weight, losing passenger capacity.
Electromobility requires a system approach, which IVECO BUS offers its customers, by helping them to design the best transport system in terms of power and energy management with route simulations. This service enables them to identify the product specifications and design that perfectly match their specific requirements. IVECO BUS shares their journey with its contract engineers to help them achieve all the aims of their project.
At Busworld 2019 IVECO BUS is unveiling the E-WAY 18 m length version on its stand.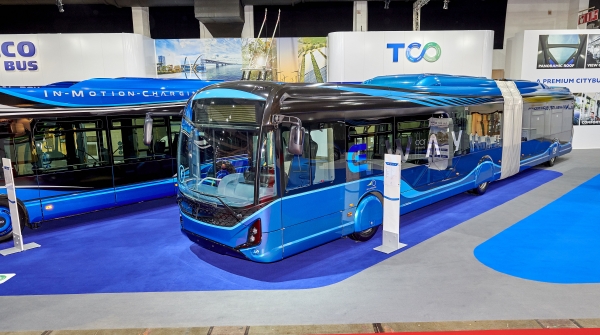 Providing a full electric solution for the most demanding missions, this real zero-emission alternative to fossil fuels marks a further significant step in environmental performance. It contributes to the well-being of residents by eliminating local pollutants and reducing greenhouse gas emissions and noise pollution.
The E-WAY also offers a supremely comfortable experience for both drivers and passengers with no vibrations and smooth acceleration and a spacious, well designed interior. Different levels of interior and exterior customization are available, with a wide choice of materials and custom-made arrangements of the passenger compartment. It creates the conditions for well-being and conviviality of the users, contributing to a positive image of urban transport.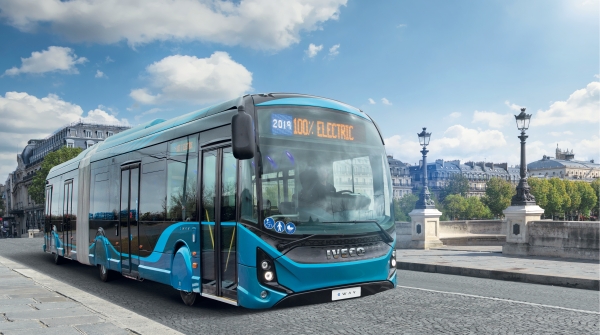 The ergonomic driving environment, with excellent visibility, enhances the driver's experience and reduces their fatigue. In addition, connectivity features such as the Driving Style Evaluation system facilitate their working day and help them enhance their safety.
The IVECO E-WAY 18 m offers transport operators the huge advantage of flexibility and modularity to match their specific operating requirements with a minimum of constraints. It requires little maintenance due to the small number of mechanical components, and it is very easy to service. It is also extremely durable, with the stainless-steel structure, chassis with reinforced protection and body in composite materials.
It also comes with a wide range of consulting, financial and maintenance services to facilitate the work of transport operators, providing a complete transport solution.
With these latest steps in the development of a complete electromobility offer, IVECO BUS clearly demonstrates its capacity to introduce disruptive innovations in the zero-emission passenger transport sector and fully embraces electromobility. As a key player in this sector, customers can count on IVECO BUS to be at their side, today and in the future, evolving and growing with them as the perfect partner for sustainable transport.